We all love Halloween and although it is not customary for us to partake in things like trick or treat, we still enjoy some good ol' spooky events. Singaporeans often associate the end of October with USS Halloween Horror Night and fun Halloween parties but with this year's pandemic, how can we enjoy the usual festivities whilst keeping safe? Here are some fun and safe ways to celebrate spooky season this year.
DIY Decor
When it comes to creating the vibes, nothing will be as effective as decking your pad out with your favourite ghoulish decor. Instead of running to Daiso for cheap decorations that you will most probably discard once November hits, try making some your own instead.
If you don't have pumpkins lying around (and why would you?), feel free to let your imagination run with bowls, buckets or pails you might have at home. Cover them with some orange cloth, stick a couple of googly eye stickers on them and they'll make for a makeshift but also really cute addition to your home!
For something a little lazier but equally on the nose, why not hop on the ghost photoshoot trend? Throw some thin white sheets, or better yet, rags, over any chairs or lamps you may have at home and you'll have your own trendy Halloween decorations.
If you want something more sophisticated and classy, try adding a touch of glow in the dark to the elements around your house. This glow in the dark pen is all the equipment you need to create cool and fun doodles for your wall, door, or anything else, really.
Bake Some Spooky Treats
No party or celebrations will ever be complete without yummy spooky treats and here are some fun recipes that we love.
These cheeky Rice Krispie treats are perfect nibble food for your mini get-together. They are not only sweet treats that are perfect for all you sweet toothers, they are also super easy to make!
If you are more of a savory kind of person, this baked brie wheel should be right up your alley. It is a fun twist on your usual charcuterie board and makes for a classy and easy way to serve cheese.
Movie Marathon
One of the best things about Halloween season is simply all the horror flicks we get to binge on. There are such a wide variety of horror movies for everyone, whether you're into cult classics like the OG Scream, Asian horror films like Shutter or even local gems like The Maid. Check out our article for some of the best horror viewings on Netflix right now!
Catch Up on Some Creepy Classic Reads
While we love a good Netflix and Scream session, nothing really beats going back to the classic reads. Here are some gothic reads, creepy novels, and cult classics that we love.
If you're into poems and you love the gothic genre, reach for any poem collection of Edgar Allan Poe and you'll find the ghoul in you to be thoroughly satiated. If you're more of a terror and horror fan, pick up literally any Stephen King book or any novel by Dean Kootz for a guaranteed riveting reading session. As for my vampire loving book fiends, pick up Renée Ahdieh's "The Beautiful" – a cross between a vampire novel and a period drama, taking the reader into 19th-century New Orleans, a city controlled by vampires. Basically, a spot-on suggestion if you're a TVD/ The Originals fan!
Creepy Cocktail Party (Virtual)
Obviously, bars are not going to be a great idea to meet friends for a fun get-together so why not have your own Halloween cocktail party over Zoom? Create some fun e-vites, get creative with them, and send them out to your friends. Here are some of our favorite cocktail recipes that you can try next week!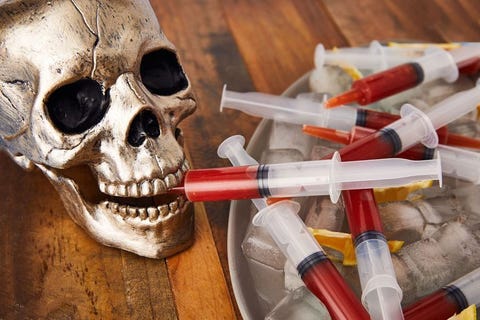 I bet we've all missed taking shots with friends but that doesn't have to end just because of the pandemic. These super cute Bloody Mary shots are fun, tasty ways to get boozed up over Zoom. You could even make some beforehand and courier them over to your friends.
If you're more into wines, obvi reach for a classic red wine sangria for some boozy fun. Cut up some of your favourite fruits, fill 'er up with red and plop a few gummy worms or spiders in. Delish!
Plans and traditions have definitely changed this year due to the pandemic but don't let it stop you from having some good, responsible and safe fun!